If there is one thing you should never compromise on, it's ordering the best convertible car seat for your kids, because…
A good car seat will not only allow you to move and travel comfortably, but it can save your child's life or prevent a major injury from a car crash.
Don't ignore this.
A crash can happen to anybody, at any time, around any corner.
It's much better to prepare yourself ahead of time than to cry about it afterwards.
The problem is, how do you find the best convertible car seat that you can afford?
Best Convertible Car Seats for 2022
The biggest mistake most parents make is just buying what others are buying. This approach might work when you purchase cookware or a stroller—you just go to big online stores like Amazon, browse the best sellers, read reviews posted by others, and choose what would best fit your needs.
When it comes to baby car seats, this approach is WRONG!
Do not put your child's life into a stranger's hands.
Do in-depth research before you choose and choose wisely!
Look for a top rated car seat that not only passed crash tests with high scores, but is also easy to install both in forward-facing and rear-facing positions, and features several recline positions that enable it to be installed correctly with any seat pan angle.
We carefully analyzed and compared raw data from various places, including Consumer Reports, independent crash test data, and other expert reviews and resources, to make this list of the best convertible car seats of 2022.
You can't go wrong with Boulevard – it is so easy to install and adjust, and is extremely comfortable for your child. The safety is top-notch, with straps that give you an indicating click to let you know they're tight enough (so you never have to guess if your baby is safe) and built-in head protection on the sides.
This is the only brand of car seat that uses SafeCell technology for side-impact safety.
The best Britax convertible car seat, Boulevard, comes with 2 layers of energy-absorbing material for impact protection: a foam layer that lines the shell and protective shielding on either side of your child's head.
It may not be the cheapest car seat available, but it will last for years, from your child's newborn stage through their toddler stage. It is the only car seat that you will need to buy. By just pressing a button, you can adjust the height of the seat as your child grows.
Pros:
ClickTight is not only easy to use. It's one of the safest car seat installation systems.
With two layers of protection, your child is safer in the event of a side impact.
The Click & Safe strap system will give an audible click so that you know the harness is tight enough.
This car seat can grow with your child, even if they are on the taller side. The buckle can be positioned 2 different ways and the harness can be positioned 14 ways, which lets you pick the most comfortable position for your growing child.
The cover is flame resistant, however, it has very low levels of harmful chemicals.
You can use the seat in a rear-facing position for children between 5 and 40 lbs, and the front-facing position can be used for children 20 to 65 lbs.
Cons:
It's a bit on the heavy side, but this is expected since it can accommodate children up to 65 lbs. This isn't such a problem if you only plan to put it in one car, but if you need to constantly swap it out, it gets annoying fast. This is its biggest downside.
Some people complain that the buckle digs into their child's crotch or thighs uncomfortably. (See below.)
Though this Britax car seat is great, we want to address one of the main problems that people seem to have with it. It seems that the buckle can dig into the child's leg or crotch, especially if your baby is a little hefty. This is easily solved by using the alternate buckle position, though. We haven't had a problem at all with the tightness of the thigh straps.
Watch this video to learn how to adjust the buckle:
As you can see, all you have to do is move the buckle to the outside and there are no more issues.
As far as the bulkiness of the product, this can be a problem, but you can't really expect anything else since it's built to grow with your baby as well as keep them SAFE.
The only thing I can say is that you should check to make sure the Britax Boulevard car seat will fit in your car if you're going to have it in the rear-facing position. Since it's kind of big, there probably won't be much room for it to recline in a small car. The best place to put it in that case is probably the middle back seat, since there's usually a gap between the two front seats where it can fit.
What About LATCH?
Yes, this car seat has the LATCH system, and it's installed with ClickTight. You can choose between LATCH or using the old seat belt method (not both).
The easiest way to install it is with the seat belt method without having to worry about vehicle LATCH anchor limits.
When you install it the right way you literally cannot shake/loosen it as much as you try.
One of the things that makes installation so easy is the ClickTight system. It's truly one of the best things that only Britax brand car seats have to offer. The cloth that lines the seat is also very nice.
This best rated convertible car seat comes with an indicator that will tell you what the correct reclining angle is. This is one of those things that doesn't seem to matter much until you have to install the seat. It's just a small touch that you usually don't find in cheap models.
Britax Boulevard is one of our favorite car seats and we can't recommend it enough.
The only complaint we really have is the size of it, but this is understandable since larger car seats are usually safer and more comfortable. It's also kind of expensive, but it has the highest side impact ratings for a car seat, and it's extremely easy to use, so of course it's going to cost a little more.
This car seat is also FAA approved, so you can take it on an airplane with you.
#2 Chicco Nextfit – Best Convertible Car Seat for Small Cars
The Next Fit not only is safe and easy to install, but you can also get your child in and out of it quickly and easily. This is one of the few car seats you can use rear facing up to 40lbs and it fits into small cars (Mazda 3) while still being installed properly per instructions.
It's an extremely safe and comfortable compact car seat, with plenty of padding.
The fabric is very soft. It's so easy to clean with just a damp rag. Plus it also has a good array of reclining positions, which makes it simple to lay your child in the most comfortable way.
It's extremely easy to install. You can use the Ride Right indicator to help you install the car seat correctly and safely.
It has a proprietary LATCH tightening system called the Superrich that uses leverage to tighten the straps with very little effort on your part. This helps you achieve a tighter, more safe fit for your child with less effort. You can even change the position of the LATCH strap easily, with no need to re-thread, once you switch to the forward-facing position.
You can feel confident that your kid is safe, secure and comfortable in this seat.
Pros:
Easy to use 9-position leveling system for an accurate fit in many different types of (small) cars. Dual bubble level-indicators will help you install it correctly.
The infant insert makes it ideal for smaller babies and the 2-position chest clip for growing children
The seat is easy to adjust & it's easy to get your child in and out of the seat.
Fits perfectly to your child – you can change the headrest height and shoulder strap position with a simple button.
Comes with a lot of padding—much more than the other seats on our list.
Seat cover is removable and washable.
Best compact convertible car seat for not so small cars
Cons:
This seat is big, which may be a problem for some, but it also means that it's high quality. It can accommodate children from 5 to 40 lbs in the rear-facing position, and 22 to 65 lbs when front-facing.
You may not be able to fit two seats side-by-side in a car because they are big.
When it's in rear-facing mode, it is a bit hard to tighten the harness because of the position of the pulling strap. (See below.)
The only thing we don't like is the One Pull Harness strap at the base of the seat between the child's legs. When your child is in the rear-facing position it can be hard to get enough leverage to tighten the straps properly because the strap and release button are pressed against the back seat of the car.
The Chicco NextFit is easy to install as long as your car supports LATCH – if it doesn't the installation can be tricky (all cars made after 2002 should have LATC, thought).
The bubble level is great and helps you set the correct seat angle in both rear and forward-facing setup and it's strange other convertible car seats don't have this small, convenient feature.
Really, it comes down to safety as well. Being able to install your car seat correctly could be a matter of life or death in the case of an accident.
Another thing we really like is that the harness can be easily adjusted for height.
You don't have to re-thread the harness or do any complicated maneuvering for this, so you can put your child in and out of the seat easily. While there are other car seats that have this feature, it really is extremely smooth and seamless on the Nextfit.
The car seat is wide, so keep in mind that you probably won't be able to get more than 2 of these in the back seat, if that. You might not even be able to have a third person back there next to the two car seats. If you need to be able to cram as many people as you can into your car, this may not be the car seat for you.
Even with the harness tightening issues mentioned, this is our favorite convertible car seat (for small cars) out of all of the ones in our top 10 list.
It has tons of great features, and Consumer Reports rates the Chicco NextFit an 82 in its category, which is very high. Only the Britax Marathon ClickTight comes close, with an 81. We highly recommend either of these as on one of the safest convertible car seats.
The Marathon Convertible Car Seat is a secure, comfortable car seat with extra safety features that will keep your child from jostling around. It installs tightly in your car and won't move if you've put it in correctly thanks to all of the security latches.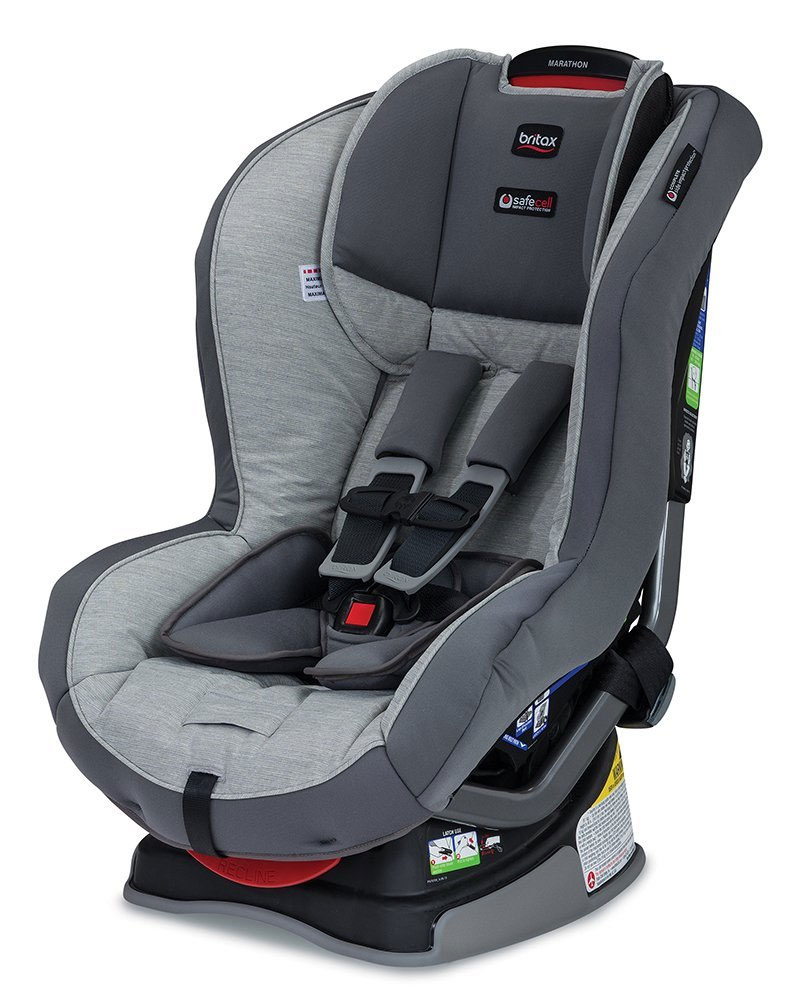 The safety ratings are high and the seat is easy to use and install. It fits fine in the back seat of a compact car, and offers superior comfort for babies and toddlers.
It comes with a latch that clings to the back seat for extra safety when the car seat is forward-facing.
We wish this seat provides a better look through car windows for kids that enjoy looking outside; however, we'll take the safety over entertainment.
Pros:
It's small enough to easily fit in a compact car.
You can remove and clean the cover without removing the car seat from the car.
You can adjust the headrest without having to re-thread the harness.
Cons:
It's a bit pricey, but the safety features more than make up for it.
This car seat is not meant for newborns. Wait until your baby is at least 7 mo old.
Thanks to its flame-retardant material and low level of toxins, this car seat is one of the top 3 according to the Environmental Working Group (EWG). It is also highly rated by Consumer Reports because of its safety features.
A few people have had a problem with the lap strap that goes across the child's thighs, but we haven't noticed any issues with that. We suggest that you use strap covers if you run into this problem, since the safety features of this car seat are second to none. For a comfortable, easy to use, simple to install, well-built car seat, Britax is the one you want.
This high quality seat provides good safety and is very easy to install. You can use the LATCH system or your car's seatbelt, or—for extra security—both of these methods.
What we really like about this toddler car seat, beside the Side Impact Protection, is that it can be adjusted into 10 positions, whether or not your child is sitting in it.
This, coupled with the SIP, that protects child's head, neck and spine, makes it an extremely comfortable and safe car seat.
The Primo Viaggio is relatively small for a standard convertible car seat, so it should fit well between two booster seats if you have to drive 3 kids.
Besides being smaller than most convertible seats, it has a 45-lb rear-facing weight limit, which is 5 lbs more than most others.
Pros:
Easy to install, easy to clean. Safe and comfortable child car seats.
Fabric is great quality and seems more breathable than any others we tested.
Stylish and affordable. Yes, it's more expensive than some, but very much worth it.
Smart design. It protects, but does not block the view to the outside world.
Cons:
The height limit is not clear. Though they used to have a height limit, now the Peg Perego website simply says that the baby's head should be one inch below the top edge of the headrest. There are no specific numbers on what this height is.
There is no way to determine if it is level or not. You have to eyeball a horizontal line on a sticker to see if it appears level with the ground.
Although this top rated infant car seat can be used for a newborn right out of the hospital, it is not recommended as it just doesn't recline enough for a newborn to be in a good position that supports their neck. You should switch to this seat when your baby is at least 7 months old and has good head control.
This is a great choice if you're looking for a good toddler car seat that provides advanced side impact protection, while keeping your baby being able to look out of the window (important for long trips). You will love how comfortable your baby is in it because of the memory foam padding, which will cradle your baby's head as he falls asleep.
This seat is ideal for long trips. It has a super soft pad cushion seat and the self-wicking fabric will keep moisture from building up around your child for comfortable rides.
All models (expect the Bohemian in blue and red) come with a cover than can be easily removed, and then machine washed and dried.
The Bohemian Blue and Red are limited editions and have different type of fabric – it is just as plush as the other models, but it can't be easily removed for cleaning.
The installation is easy as directions are very clear. This is a high-quality convertible car seat with comfortable fabric. It is cozy and safe.
Pros:
Fits perfectly in small cars (Mazda 3).
Getting the child in and out of the car seat is easy and simple.
The seat will accommodate toddlers up to 52″ tall.
You can tighten the straps easily by pressing a simple button.
Cons:
Only 3 different reclining positions.
You cannot change the reclining position when your child is in it, as this may make the seat looser and require re-installation.
What we don't like is that you cannot change the recline position while it's installed. Basically, you would have to release the latch belt or seat belt, which would not be safe to do with a child in the seat, as you want the seat to be secure before placing a child in it.
Also keep in mind that different cars have different seat angles, so you may end up not being able to set the correct position for this seat because you are limited to just 3 reclining positions (as opposed to the 9 positions offered by our top rated models).
If you like this seat we recommend to choose the new models that come with better fabric and a harness that doesn't need to be re-threaded, as well as a seat pad that comes off easily with snaps and is machine-washable and dryable. The new design also provides more comfort and headroom for your baby.
#6 Graco My Ride 65 LX – Best Cheap Convertible Car Seat Under $100
Can you find a high quality affordable convertible car seat with LATCH, Side Impact Protection, EPS, and an adjustable five-point harness for less than $100?
Here is the Graco My Ride 65 LX—a best seller on Amazon for a reason.
It comes with an easy-to-clean machine-washable cover and dual integrated cup holders to keep drinks within your child's reach.  Don't be afraid of spills, though, as the cover is easy to take off to clean.
What we really like is the side pads which keep heads in place while kiddos are asleep, so their heads will not hang and they will sleep comfortably even during long trips.
You can install the My Ride in the middle of the backseat or to the side if needed in a car with and without LATCH. The seatbelt installation is quite easy.
Pros:
This is a great but cheap seat with LATCH and improved side impact protection.
It is very lightweight and easy to move from a car to car.
It is safe and FAA approved for use on aircrafts.
Cons:
It's pretty big so it might not fit in your car.
There are no options to manually recline this seat.
The straps don't have protective cushioning, so your LO may get red marks on his neck.
This seat, although safe and comfortable enough to do the job of driving with a baby in the car, is a budget option and should be considered only by parents on small budgets. Yes, it comes with many bells and whistles, but it is nothing like the top rated premium seat on our list.
Overall, it has a good bang for the buck as a cheap spare, but it's not so good as an everyday car seat or for long trips.
We understand that as parents you have lots of things to spend money on, but we believe a car seat is something that you should never compromise on. At the end of the day, you get what you pay for…and a good car seat could safe your child's life.
#7 Graco Extend2Fit – 50 lb. Rear Racing & More Legroom
If you are sold on Graco (one of the most trusted brands in the market) and are looking for a safe, premium convertible car seat that offers all the goods from My Ride 65 LX plus, but also has a steel reinforced frame and allows you to have your toddler in the rear-facing position for longer, then Graco Extend2Fit is what you have been looking for.
The seat is easy to install and adjust, comfortable to sit in, and easy to clean with a machine-washable cushion.
Since the straps of the harness are attached to the headrest, they can be positioned higher or lower on the shoulders without having to be rethreaded.
There is also a lever at the front of the car seat to easily loosen the straps while you put your baby in, and then you simply pull the strap to tighten it back up.
Pros:
Your child can ride rear-facing (the safest position) until they are 50 pounds.
Compact size that fits great in small cars (Toyota Corolla), even rear-facing behind the passenger seat.
One of the best rear facing convertible car seat for travell
Cons:
The cover is not so easy to remove for cleaning.
Pictures on Amazon can be misleading as real colors may differ from how they look.
There are two cup holders, but did you notice that they are square?
One thing we don't like is the fabric. The color is great, but the material can make your baby hot. This is a really a nice car seat, but not the best infant car seat if you live in a hot place or your baby is going to sweat a lot.
However, it comes with a lovely leg extension that increases legroom. It also allows you to adjust the headrest for maximum support, and you can adjust it even while your child is in the seat. You can adjust the reclining position and the straps. It comes will all kinds of options so that your baby will be both comfortable and safe.
This seat is very sturdy and the fabric looks very high quality. The entire seat pad is a plush soft fabric. It is very soft and comfortable. Installation is a breeze because the manual is very detailed and easy to read, and important information is highlighted, which totally beats most of the other top brands.
The seat itself is big and safe, but not too heavy or bulky. It fits into small cars (Ford Focus).
We like how the pads that normally cover the part of the belt that goes over the shoulders come all the way down to the buckle, increasing comfort.
There are harness holders on either side of the seat, which makes it easier for you to get your child in and out of the car.
It looks great and seems very comfortable for the child.
Pros:
For newborns to growing toddlers—rear-facing, forward-facing, and booster up to 100 pounds.
The convenient harness holders make getting in and out of the seat easier.
Machine washable and dryer safe for easy cleanup.
Easy to adjust straps, reclining angle, and head rest height.
Cons:
The cup holders are not removable, which can make cleanup harder.
No level bubble or ball showing that the seat is installed at the correct position.
The LATCH system is harder to deal with when compared to the top rated products.
Although changing the reclining position is not the easiest thing in the world (you need to do it before the LATCH is installed) it is a great quality 3-in-1 car seat for the price.
We do believe this is one of the best 3 in one car seat that can be used in a rear-facing position for infants, and later as a forward-facing seat when your child gets a little bigger. It is also a "backed booster" seat (the back does not detach) for enjoyable long rides for your kid.
You are going to love this cheap seat. It is easy to install, comfortable, and seems quite sturdy. As a bonus, it is so easy to take apart and put back together for cleaning.
The Symphony LX is great – it's easy to install, safe and comfortable for your child, and will easily fit in most cars. It comes with a two cup holders, machine-washable fabric that breathes well, and it's manufactured in the US. What else?
Quick latch system with easy push button release but…
…all car seats have pros and cons, right?
It is not best baby car seat that you will want to move from car to car frequently because it's quite heavy.
Lucky, Evenflo solve this with the new "clip on" anchors that allow you to unhook the car seat with just a press of a button. This makes it easier to transfer between cars.
Pros:
Very good car seat for toddlers. Well made. Easy to adjust. Safe. Comfortable.
Elastic strap on each of the cup holders, making it easily work for most sizes of cups.
Cover is easy to remove so you can wash it when it gets dirty.
Cons:
Different colors have different prices.
Works better in the forward-facing setup.
Not the best head support for a sleeping baby.
It reclines, but you might not be able to make it sit at the correct level on the backseats of all cars.
One of things that make this convertible car seat good and different from others is how the belt system works. You can easily tighten it when your child is in the seat, and loosen it when your child is ready to come out. Unfortunately, because of the new LATCH system, the belts may not tighten very well in all cars.
If you're looking for a convertible car seat at an affordable price point, that you can use throughout your child's infancy and toddler stages, then this is a great choice, otherwise choose one of our top 3.
#10 Diono Radian RXT – Best All-In-One & The Only Car Seat You'll Ever Need
Our top list cannot be complete without the best all-in-one convertible car seat.
The Radian RXT is solid but so easy to install and is a high quality seat that can be adapted to your child as they grow.
It exceeds basic Federal crash standards thanks to the solid side-impact padding and the sturdy steel frame.
We love everything about this seat.
Some parents might complain that the head rest could block the child's view, but we think it is much more important for babies to have head support when they fall asleep.
The strap pads are memory foam. It is super comfy, and the cover is quite easy to take off and wash. The cup holders are a great size and can be repositioned and moved around, and it can hold up to 4 drinks.
Pros:
From 5 lb. babies to kids up to 120 pounds, this is the only car seat you'll ever need.
Being only 10" wide, this is possibly the narrowest seat out there, yet it is super comfortable.
Ride your toddler rear-facing for longer, up to 45 lb.
You can fit 3 across the backseat in most cars.
Good price for the comfort and the protection it offers.
Cons:
The car seat is a little heavy and bulky, but that is what makes it so safe and great.
Installation could be tricky at first, but watching the online instructional video helps a lot. Diono solved this in a very smart way: there are bar codes in the user manual (which is very clear), and you can scan them with your smart phone to be taken to the online video that shows you what to do.
The Diono Radian RXT is a perfect choice if you don't need to move this top rated infant car seats from car to car, as it is heavy. However, it is so narrow and convenient that it will leave you with more leg room in the front passenger seat.
Another really nice thing about this specific car seat that is hard to find in other car seats is the fact that you can fit 3 seats across in most mid-size vehicles. Plus, it folds in half for easy storage and travel.
This is a great (if not the best) all-in-one convertible car seat that will grow with your baby all the way to their booster stage.
Convertible Car Seat Buyers Guide – 2022 Update
Do you want your baby or toddler to be safe and feel comfortable every time you ride in the car together?
Of course, you should do your best to pick the right seat for your baby that will keep your child out of harm's way.
But what about functionality? How do you find the best convertible car seat for your child that will also fit well in your car?
There are so many factors to consider, that it can make your head spin.
Infant seats, convertible seats, booster seats, combo strollers, safety features like LATCH, ClickTight, and side impact protection—it's enough to drive you crazy with confusion!
While we love our babies more than anything else in the world and we want them to have the right car seat, it's not always easy to make sense of all of these strange terms and ideas.
Thankfully, all kids car seats that are sold in the USA have to comply with federal safety requirements, but there are other things to consider:
Not all safest car seats fit into all cars.
Some car seats are more comfortable than others, especially on long car rides.
Some car seats are safer than others and surpass government standards because of their added safety features.
A good car seat could cost more than you want to spend, but it can mean the difference between an enjoyable ride and a miserable one. A good car seat can also save your baby's life or prevent serious injury during an accident.
You don't want to be cheap when buying a car seat, but you do want one that can deliver value for years. That's why one of the of the best kinds of car seats that you can buy are convertible seats.
"Convertible" in this case means that the seat can convert from a rear-facing position to a forward-facing one as your toddler grows, and sometimes even into a booster seat when he gets a little older.
You can use a convertible seat for years, often until your child is ready to use the car like an adult. Since it lasts so long and can give you peace of mind until your child outgrows their car seat days, a convertible seat is more than worth the price.
When Should You Buy a Convertible Car Seat?
First of all, a convertible seat won't work for your newborn!
For an infant who just got out of the hospital, you will need an infant car seat, or stroller / detachable car seat combo. After your baby outgrows their infant car seat, then you can switch to a convertible one.
Since all children grow up at different paces, the time your child needs to spend in an infant seat will vary. Usually it takes about 9 to 12 months for the baby to be mature enough for a convertible car seat.
The infant car seat is designed to cushion your newborn's small body, so it's much safer to use and will protect their fragile spine, neck, and head. Convertible seats are for children who can already hold up their own heads without assistance.
NOTE: You might have noticed that some car seats have a wide range on their weight and height limit, and the manufacturer says that it can be used for newborns up to school age kids. We urge you, regardless of all positivite car seat reviews, to avoid using seats like these for infants.
If you want to take a "one and done" approach, then get a combo stroller with detachable infant seat. You can use the car seat as a carrier when you're out and about, while keeping your baby asleep when you getting it in/out of the car. This isn't just convenient, it's also safer. Then once your baby is old enough you can switch to a convertible seat.
How Do I Choose the Best Convertible Car Seat?
Naturally, you want the best for your child, so you're not going to overlook safety. All of the seats that are sold in the US follow minimum safety guidelines, so you can assume that there will always be some level of basic safety.
What we want to do here, though, is help you find a seat that provides even better protection than those minimum standards, while still being durable and comfortable for your baby.
A good top rated child seat should be comfortable, easy to use (install and adjust) and easy to clean. It should be durable but not so heavy. Fabric should be soft and cozy with low levels of harmful chemicals but most importantly it should fit into our car in both rear and forward facing positions for maxim safety.
IS YOUR CAR SEAT SAFE?
The Importance of Proper Installation
Did you know that up to 75% of car accident injuries in children happen simply because the safest car seats were installed incorrectly?
It is not enough just to buy a rear facing car seat.
All of its fancy safety features and statistics mean nothing if you don't install it correctly. You have to install it right the first time and use the harnesses correctly every time to avoid injury. If your child is not restrained properly or the car seat is shifting around from not being installed correctly, your baby could be seriously injured.
NOTE: Just because somebody complains in a review that an all in one car seat is hard to install, doesn't mean that it will be for you. Read the instructions and the installment guide carefully.
Where is the Best Place to Install a Convertible Car Seat?
There are two main places where you can put a car seat: in the middle seat of the back seat of the car, or on one of the side seats. There are pros and cons to each of these.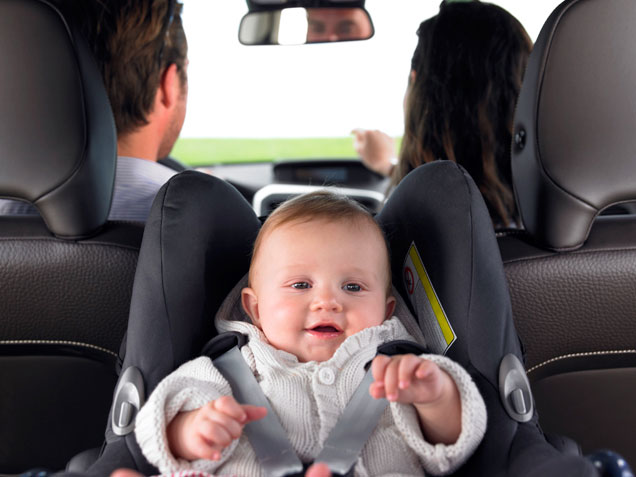 The Center Seat
Pros
According to the Mayo Clinic, the center position is safest because your child is away from the outer doors in case of a side impact.
There's usually a gap between the two front seats, so you can more easily install the seat in a rear-facing position (which is safest).
You can more easily reach your child from the driver's seat. (Though don't let them distract you.)
Cons
Not all cars have LATCH in the middle seat. This system is a safe way to install the car seat, and it's faster than using the seat belts, but it MUST be installed correctly to work.
The middle seat is often narrower than the two on the side.
Your child is further away from exits in an emergency.
Your child is further away from you when you need to reach into the backseat and pull them out.
Your child is further away from the window and may not be able to look out of them as easily.
The Side Seats
Pros:
It's easier to put your child into the car and take them out.
In an emergency, your child will be closer to an exit.
If you have more than one child of car seat age, at least one of them will have to be in a side seat.
You child can see through the window more easily.
Cons:
Though it is safe, it is not the safest position according to the Mayo Clinic.
It may be harder to install certain car seats in the rear-facing position on a side seat.
As you can see, it's not always easy to decide where to put your baby's car seat. If you have more than one child who uses a car seat, this raises another question: Who gets the safest seat? How do you decide? No parent wants to be put in that position.
Whatever you decide, our advice is to pick a premium convertible car seat that can be installed with LATCH or seat belts in either the middle seat or the side seats. A car seat like this may be a little more expensive, but it's worth it because you'll have the freedom to move them around and re-install them if you need to. For example, you might start out in the middle seat when your child is young and needs a reclining position, and then switch to one of the side seats as he gets older.
The Importance of Good Side Impact Protection
Did you know that side collisions result in the most severe injuries?
It is always better to get a car seat with the best side impact protection possible.
The only drawback of this is that the side impact protection can limit your child's ability to look through your car windows.
It is up to you to decide which is more important: better protection or convenience – the added protection can increase the seat's weight but we would prefer to better protect our child in case of a side collision.
Convertible Car Seat Reviews & FAQ
What is LATCH?
LATCH stands for Lower Anchors and Tethers for Children, and it is a child safety restraint system that is built into all cars starting in 2002.
It is a convenient and easy way to tether your car seat tightly to anchors in your car. It is an easy-to-use alternative to using seat belts, though it has a weight limit you should consider.
Beware to use the standard LATCH, both the child seat and the vehicle must have LATCH parts that work together. Btitax and Chicco simplifies this with improved tightening systems.
What is ClickTight?
ClickTight is a proprietary alternative to LATCH by Britax that allows you to install your car seat using the seat belts and various anchor points.
First you put the child seat into the rear or forward-facing position, then you place the vehicle seat belt into belt path. After that, you close the seat and – when installed correctly – it gives an audible click that confirms you have a secure installation.
Using ClickTight is easy, works with all vehicles, and you don't have to bother with a weight limit.
What is SuperCinch?
SuperCinch is a LATCH tightening system by Chicco. It allows you to tighten the straps on your LATCH system with just a quick tug on a single strap.
What we really like about SuperCinch is how easy it is to achieve a tight and secure fit with less effort.
Plus, there are special compartments on each side to stow the LATCH connectors when not in use.
What is a convertible car seat leveling system and why is it important?
A leveling system allows you to set different reclining positions so you can choose the ideal position that will both fit in your car and keep your child safe.
What is bubble level and do you need it?
A bubble level is a simple way to show you that the angle of your seat is correct. This is very important because it helps you to know whether or not you installed the toddler car seat correctly.
What is a 3-in-1 convertible car seat?
A 3-in-1 is a car seat that can be converted for three different stages of your child's life: it can be rear-facing, it can be forward-facing, or it can be used as a booster seat. It grows with your child, so it provides the best value.
What is an All-in-One convertible car seat?
These are car seats that are basically like 3-in-1's, where they offer rear-facing, front-facing, and booster positions, but they also claim to work for newborns as well. It is better to get a dedicated infant seat until your child is 9 to 12 months old, though.
Why it is adjustable head support important?
Good head support will keep your child comfortable while he is asleep, and having an adjustable head rest will allow you to choose the best position for your growing child. Also, proper head support is important for safety in case of impact.
How To Choose the Best and Safest Convertible Car Seat?
As you see there are so many options to choose from. The good news is that you can't really go wrong with any purchase because they all adhere to stringent safety standards.
The only caveat is that you may need to go through our top 10 list because not all seats are comfortable for all age groups no matter what they promise. Yes, they all pass the federal crash test requirements and most convertible car seats look similar but each of them provides a completely different experience.
Here are the key things to consider:
Choose a seat that lets your baby stay rear-facing as long as possible.
Keeping children rear-facing longer is much safer than switching them to forward-facing. A rear-facing child is much more protected from spinal cord injuries and whiplash. The longer a seat is able to sit rear facing, the better.
Experts recommend that you child should remain rear-facing until age 2.
A study concluded that placing children age 1 to 2 years of age in the rear-facing position resulted in lower risk of death or serious injury compared to a forward-facing position. Please keep your baby rear-facing as long as you can.
Height limits typically matter most
Generally speaking, children tend to reach the height limit before the weight and age limit of the car seat. This isn't always the case, though, since some children are heavier than others, so always be mindful of your child's unique situation. If your child exceeds the height limit, his head and neck are more vulnerable to injury in a crash. Neck injuries are some of the most permanent and debilitating in existence.
Price – Good child seats are not cheap.
Yes, quality comes with a price but a good convertible car seat, especially one that is 3-in-1 will "grow" with your child. This will allow you to save money and keep your child safe because the car seat will fit them for a long time.
Since 2002, most cars in the US are equipped with LATCH connectors. This type of installation was designed to provide a simple way of attaching car seats to vehicles.
We recommend using LATCH when it is available, since it is usually the best and easiest way to ensure a tight, secure installation but beware LATCH has a weight limit so please refer to the vehicle owner's manual for more information.
The ClickTight and SuperCinch (the LATCH alternatives) allow you to install any kind of car seat using the vehicle seat belt by just following the directions.
Do You Know What the Safest Place to Install a Car Seat in Your Car Is?
As mentioned before, it's in the middle seat of the back row.
And you know what?
Only a few vehicles offer LATCH connectors for the center back seat, so a seat belt might be your only option if this is where you want to install. Either way, once your child reaches a certain weight, the seat belt installation often becomes your only installation option, since the LATCH system can only support so much weight.
Basically, the LATCH system is easier to use, but not always the best method. The top rated Britax convertible car seat can be installed both with LATCH and with a seatbelt. Your best bet is to get a car seat like this that can work with both.
Definitely consider installing your baby car seat in the center seat. It has been shown that placing the car seat in the center position can reduce injury by more than 40% compared to installing the seat on one of the sides.
Why do some parents install the car seat in a side location anyway?
Well, in a word, convenience. It's easier to put your child in the seat and pull him out when he's sitting near the door.
If you want a car seat that is both safe and convenient, we recommend that you get a premium convertible car seat and experiment with different configurations before you put your child in it. Try installing it in your favorite locations and see if it sits well.
The key factor is that you will want to keep it forward-facing for as long as possible. If the car seat doesn't seem right after you bought it, then return it.
Returning things on Amazon is extremely easy.
What is the Best Convertible Car Seat for You?
Having a good car seat will help you enjoy frequent and longer family car drives, knowing that your children feel comfortable and are safe, well protected from crash incidents.
After reading a bunch of crash test reports, expert advice, recommendations, and reviews, we managed to select the best rated convertible car seats that provide an extra protection for your child while offering the best balance of safety and ease of installation.
It wasn't easy to tally up all everything, thought.
In fact, we used 17 different sources of data to evaluate and select the best one that offers the sort of functionality parents truly need and is both good and safe.
The Britax Boulevard is easy to install, can be used in a rear-facing position for longer and has a steel frame for improved side impact protection.
Thanks to the ClickTight system this seat can be installed in all cars without having to worry about vehicle LATCH anchor limits.
Britax Boulevard fits well in the middle of the back seat (the safest installation) but can be installed to the side as well, so you can easy put in and take out your child.
Britax Boulevard (Rated #1) vs. Britax Marathon G4.1 (Rated #3)
For a more secure fit, the Boulevard is probably the best choice, because it has a lot of padding and feels more secure than the Marathon. It hugs your child and keeps them cradled and safe while the Marathon is small enough to easily fit in a compact car.
In addition, the Boulevard has a ClickTight system that makes it really easy to know when the straps are tight enough. It just clicks, and you know that your child is safe. You don't have to guess, which is nice.
At the end of the day, it's really just a matter of personal taste and priorities.
We have a preference of the Boulevard but that's because we value safety above all else and the Boulevard has a lot of padding. It also accommodates taller children, so you'll be ready when Junior has a sudden growth spurt.
If you're looking for something more compact, though, the Marathon G4.1 is a fine choice since it fits well in small cars. If you like LATCH and prefer it over ClickTight, then the Marathon will work better for you than the Boulevard. Weight is also an issue. The Boulevard is 29.3 lbs, while the Marathon is only 19.5 lbs.
Last Words
Both our research and the feedback we have received shows us that parents struggle to pick the best convertible car seat in spite of how much effort we put into highlighting the pros and cons of each product.
You may be tempted to skip all of the research and just order a nice-looking car seat that fits in your car and seems comfortable for your child, but before you order make sure that you double check the rear-facing limit. The longer your child can be in a rear-facing position (the higher the weight limit), the better
Even if your baby seems a little scrunched with his knees bent and very little leg room, he is still safer in a rear-facing position, as long as he's within the height and weight limit.
The Britax Boulevard won the #1 spot because of the added security of the impact-absorbing base and harness pad. In addition, it is easier to install with the car's seat belt, and this is convenient because not all cars support LATCH and the LATCH system itself has a weight limit, so sooner or later youwill have to use the seat belt.